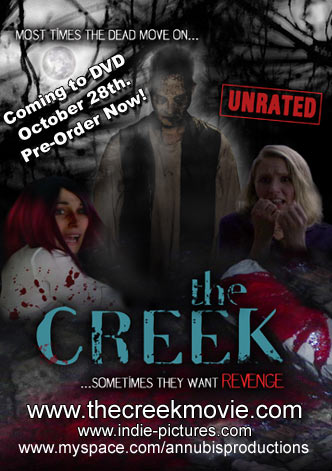 Here is your chance to watch 'The Creek' for free. All you have to do is download it on your Iphone. Hurry and download because it will only be for a limited time. Here is more information straight from the press release.
Erik Soulliard's award-winning feature film The Creek will be released as a free download for the iPhone for a limited time. The Creek has quickly become a cult favorite in the world of independent horror and it is now available to everyone for free. This is a complete version of the feature film. Preceding the film is the trailer for 12 Bells (www.12bellsmovie.com), Annubis Productions next project which is currently in pre-production.

This download is available through The Creek's download page which can be reached via their website at www.thecreekmovie.com. There is no fee and no signup required. Annubis Productions has also added free iPhone ringtones that can be downloaded as well. Each ringtone features one of the many highly popular lines from the movie.

Erik Soulliard wrote and directed his feature film debut The Creek in 2006. In 2008, the film was released to all major DVD outlets through Ryko Distribution & Indie-Pictures. The Creek received Best Horror Feature at the Illinois International Film Festival 2007 and was and Official Selection at: Full Moon Film Festival, Milwaukee County Massacre Horror Convention, Atlanta Horrorfest, Spooky Movie Film Festival, Wildwood By the Sea Film Festival, Ava Gardner Film Festival. Erik runs his production company, Annubis Productions, through which he has helmed a music video, worked on a video project for the New York chapter of SMPTE, compressed web videos for McGraw-Hill and is currently working on the feature horror film 12 Bells and a documentary film for the Lebanon Mental Health Association.

Summary - On the fifth anniversary of the death of their friend Billy, six friends are forced back together by his ghost. Billy's death was officially considered an accident but old suspicions and conflicts return. When people start dying they all must ask themselves if it's his ghost, one of them, or because they returned to The Creek?

You can view our review of The Creek
here.
(source: Annubis Productions Press release)